Thankfully, despite the recent coronavirus pandemic, Hungary is slowly returning to normal. Borders are now open meaning you can now travel freely across most of the EU.
Covering the best and most popular districts among foreign residents in Budapest, this article should answer many of your questions about renting an apartment or house in Budapest. We will cover the following:
Let's get started!


Home to a population of under 1.8 million people, Budapest sits on the river Danube in the Carpathian basin, at the heart of Europe. The city, with its stunning historic architecture, is home to a bustling, multi-cultural community. It is one of the fastest-growing economies in Europe.
Fast-growing property prices
According to recent reports, Hungary' capital Budapest was home to the fastest growing property prices globally.
This is on account of favourable economic conditions, thanks to a growth in GDP, falling rates of unemployment, low-interest rates and a rise in wages.
Growing demand for property in the capital
Increasing demand, of course, is the other major factor. More Hungarians are moving to the capital on account of higher wages. Thanks to the availability of government homeownership schemes, more of them are choosing to buy.
Meanwhile, more international companies are setting up in the city. Attracting skilled expatriates from abroad, they create growing demand for properties to let. You can still add Airbnb into the mix, which is particularly popular in Budapest's fifth, sixth and seventh districts, and there is ever greater demand (Of course, the pandemic was mostly affecting these buy-to-let properties bought for short-term rentals). And that's without mention of the sizeable expat-student population present across the city: more and more students arrive to schools such as the Semmelweis Medical University, IBS - International Business School, Corvinus University and St. Stephen's Veterinary University.

Demand and Supply
With demand rising, supply must keep up. The number of newly-built apartments available across the capital will slow down from this year onward. This is due to previous tax-incentives on new builds being scaled back. High homeownership rates also mean there are fewer properties to rent in Budapest's central districts.
However, the positive knock-on effect is a growing interest in neighbourhoods outside of the central districts. This brings regeneration and development to areas outside the traditional city centre. Such areas include the Buda Part: a practically newly-built neighbourhood in the south of Buda, with Budapest highest building, the newly commissioned MOL-office high-rise.
The coronavirus pandemic also had the effect of increasing the number of available apartments in Budapest – not only some of the ex-Airbnb apartments came on to the market, but there was a significant number of long-term tenants who left Budapest in 2020, making their properties available again.
Average Cost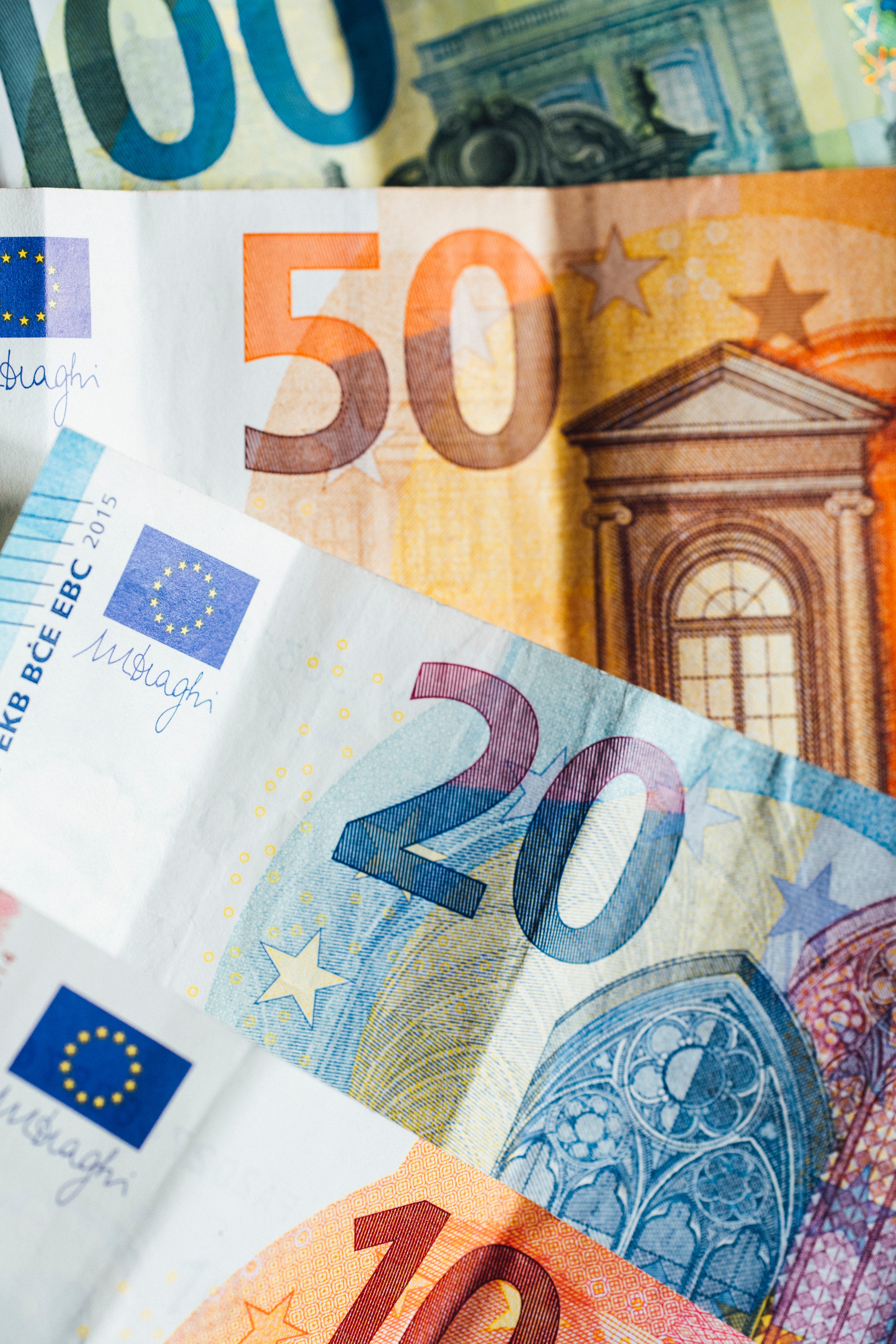 The recent pandemic has driven rental fees down, so they are actually lower than 2 years ago (but they are on the rise again).
The average rental fee for a 1 bedroom apartment in the city starts at around 160,000 HUF or 500 EUR
https://www.numbeo.com/cost-of-living/in/Budapest
https://www.expatistan.com/cost-of-living/budapest
District 5 and 6, the heart of the city, remain the most expensive areas.
If you're moving with a family or simply need more space, 2 and 3 bedroom apartments start from around 1200-1400 EUR/month and depending on location and quality of renovation and furnishing, can cost up to 3-4,000 EUR/month. For this budget, you can get well-designed apartments or penthouses on the Pest side, while some more spacious fully or semi-detached houses on the Buda side of the river will be available.
Don't forget that usually all rental prices listed online are exclusive of utility costs, so condominium fees, heating, electricity, water and similar fees will have to paid on top of the rental fee.
Condominium fees or common costs ('közös költség' in Hungarian) are a fixed monthly amount you'll need to pay to the building where the apartment is located. This amount usually covers the general maintenance and cleaning of the building, and the elevator (if there is one), and the cost of garbage disposal. In some cases the common cost can also include the heating fee (if there's house central heating), and/or the water consumption fee.
The utility costs (gas for heating, electricity, water and internet fees) depend on your consumption (so how much you use), but you can generally expect to pay around 150-200 EUR/month for a 1 bedroom, and 250-400 EUR/month for a 2-3 bedroom apartment or house. These costs can rise even further if the condominium has a pool, gym, or concierge/security service.

In most cases, you don't have to pay VAT on the residential property rental fee, which is good news considering Hungary has one of the highest value-added tax schemes in Europe (27%).
Anyone who has visited Budapest should know that the city is split in two by the River Danube. Buda is the older, historic and more regal side, while Pest is its younger, noisier sibling bustling with life and culture. The first thing when deciding which part of the city you would like to live in is to choose between the two.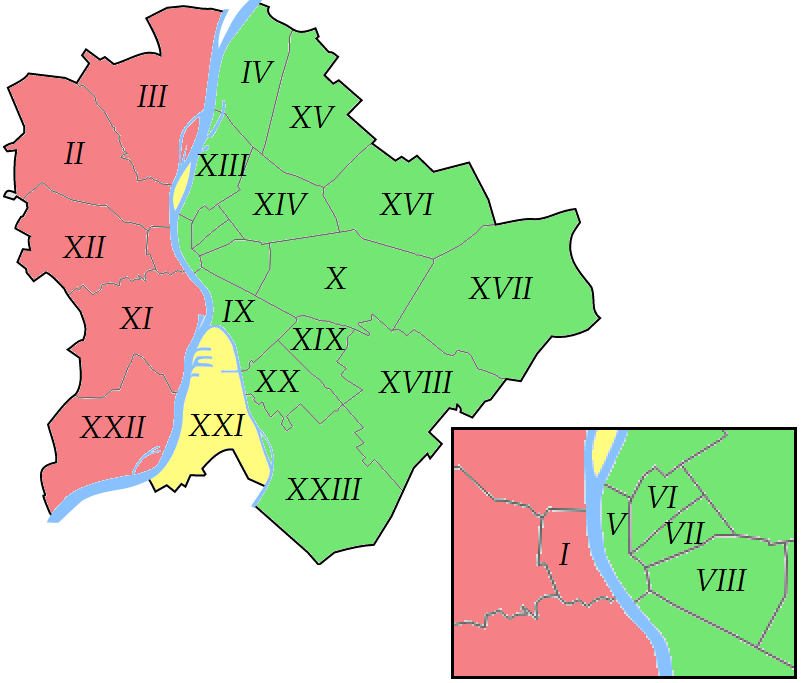 What Are the Best Districts Within Buda?
Buda (the red parts on the map)
Buda, home to the historic and regal Buda Castle, the iconic Fisherman's Bastion and Gellert Hill, has a reputation for being the 'posh' part of town. And rightfully so. Set across a series of sprawling hills, Buda offers beautiful panoramas of the city. Covered in lots of green parks, woods and other vast outdoor expanses. The area is ideal for those who love the outdoors – the most popular outdoor place is Normafa and Széchenyi Hill, where you can go on shorter hikes, runs or just outdoor barbecues with friends and family.
Besides fresh air, Buda has an excellent infrastructure and public transport - although in most Buda neighborhoods, people prefer to have a car to get around. You will find high-end shopping centres and basically all of the international schools are located on this side of the Danube.
Because of this, and as Buda's residential nature is particularly ideal for families with (younger) children.
II, XII, are the most popular among expats, but some well-located areas of Districts XI and III can also work well – it mostly depends on what your office-school-home routes will look like.
District 1 -The Castle District
District 1 is a historic neighbourhood. Filled with winding roads and cobbled streets, it is brimming with romantic charm. Heart of the old Buda town, it is classified as a UNESCO World Heritage Site. Best accessible on foot or by bike, the whole Castle area is quite touristic, as it is home to many of the city's most famous cultural sites and festivals. Parking spots in the Castle are considerably restricted, but there are areas of District 1 where it's easier to park your car. Still, District 1 is mostly ideal for young professionals or couples.
District 2 and 2/A
District 2 might be a more appropriate choice if you are seeking a property as a family. Sandwiched between Districts 1 and 3, the area covers a total of over 36 km sq. So large, you can opt for a property closer to the hustle and bustle of the city, or something more green and remote. The recently redeveloped area around Szell Kalman Ter, offers excellent transport links. There you will also find plenty of bars and restaurants and all the necessary shops one might need. The area is also home to three Turkish baths: Veli Bej, Király and Lukács.

If you'd like you can venture into district two's outer area and Buda's suburbs. District 2A covers the areas known as Hűvösvölgy, Remetekertváros, Máriaremete, Budaliget, Széphalom and Pesthidegkút – this is where you'll find the French International School and these are closest areas to Nagykovácsi, home of the American International School. For younger children, there are also plenty of nurseries from which to choose.
Being more residential, the properties on offer here are larger, and mostly detached family houses – this is the real suburban deal. Ideal for larger families and if you prefer a large garden, but prepare for driving 30+ minutes for a coffee with friends in more central Buda.

District 3 – Óbuda
The largest and equally popular Buda district is number three. Boasting a 10km stretch of the Danube's riverbank, it is filled with steep slopes and mountains. It is the perfect spot for nature lovers. Characterised by its Roman legacy, there are lots of ruins to explore. The district is also home to lots of restaurants and the trendy Római part: a bohemian riverside spot, it is ideal for a sunny day.
As for schools, district three is home to the British International School. You will also find several universities. These include the Óbuda and Milton Friedman universities, the International Business School (IBS), and Aquincum Institute of Technology (AIT).
Expect some serious traffic and 20+ min of driving to central Buda.

District 11
Home to the Gellert Hill, is one Buda's largest districts and the neighborhoods can vary greatly. Over recent years the area around Gellért Hill has been undergoing numerous developments. Lots of bars, cafes, and galleries have popped up in the area, offering no shortage of things to do. The popular Gellért Hill is not only a tourist spot, but is a great spot for a jog or walking your dog.
There schools in District 11 are less international, but if you can stay close to Gellert area, it can be an easy commute to the International schools.
With good transportation links from Móricz Zsigmond Square as well as by the Gellert, you can access the rest of the city with ease. District 11 provides a great balance between outdoor and urban living.

What about Pest (the green districts on the map)?
Lying to the east of Buda, the city of Pest is the larger, flatter half of the city, home to the country's parliament. If you like to be closer to the action, Pest should be your first choice. It's an ideal location for students, young professionals and generally those who enjoy the hustle and bustle of city life. Popular districts for renting include districts 5, 6,7, 8, 9, and 13. If you would like to know more about District 5, check out our earlier post here, but here's a short recap, and read on for an overview of the rest.
District 5 – Belváros and Lipótváros
We love this district because of its architecture, scale, interesting places and its incredible location - everything seems to be only minutes away, even on foot (disclaimer: our office is located here, so we might be biased..). No wonder it is also the favorite of local and foreign investors and expats moving to Budapest alike. Though the neighborhood is quite small, the district is divided into two parts: Lipótváros (the Central Banking District, CBD) in the north and Belváros (the Downtown) in the south.
In the center of Lipótváros, you'll find the iconic Parliament building with its nearby attractions such as Liberty Square with the US Embassy, the beautiful St Stephens Basilica, or the legendary street named Falk Miksa, where many of the city's best antique stores and art galleries present their merchandize.
The "Belváros" part of the District is much more lively, less banks and government buildings and more cafes, restaurants and shopping!
The district is a good place to rent if you like historic buildings, elegant neighborhoods and you like going out, but prefer that it's quiet when you actually go home to rest.
District 6 - Terézváros
The outer edge of the District, with its wide, tree-lined avenues, embassies and many mansions, one can tell district 6 was once home to high-society. But there's a part where the cafes, restaurants, wineries and breweries abound, closer to the heart of the city: Deak Ferenc Square. Running through the heart of the district is the famous Andrassy Avenue, a UNESCO World Heritage Site often compared to the Champs-Élysées, at the northern end of it you will find Heroes' Square. The district is also home to the Hungarian State Opera, the Liszt Ferenc Music Academy and plenty of high-end, designer shopping. It is best described as a cultural and entertainment hotspot.

In the more down to earth part of the neighbourhood one will find Oktogon, a hub of coffee shops and eateries. From here you can catch the 4-6 tram to many of the neighbouring, central parts of the city. The city's nightlife is also right on your doorstep. This makes District 6 ideal for students and young professionals.
District 7 - Erzsébetváros
Home to the city's old Jewish quarter, there are plenty of trendy spots to hangout both daytime and night-time. Not as polished as it's neighbour, District 6th, the 7th has a more rough and ready feel. That's not to say, however, that it is not safe.

A tourist hot spot for sure, you will have to contend with the many ambling visitors on its narrow streets. A thriving district, it is full of eclectic architecture, street art and food vendors. If you're looking to rent here, you will want to be conscious of noise levels. This area is one to avoid if you have young children in tow. Prices in the area will be more competitive than the 5th and 6th; however, apartments will not be as high in quality.
District 8 – Palace District
Once home to the mansions of Hungary's wealthy nobility, Józsefváros, and especially the Palace District ('Palota Negyed' in Hungarian), covers an interesting area. Once a really rough spot, in more recent years, the neighbourhood has undergone considerable regeneration, and is now a more hipster, vibey area in which you will want to search. It is home to beautiful architecture and a vibrant cafe culture.
Connected by trams 4-6 and metro line number 2 and 3, plus plenty of other buses, getting around from here is a breeze – it is also very close to Semmelweis Medical University, so it's a favorite area amongst med students.
Less popular with tourists than the 5th, 6th and 7th districts, prices are also more affordable.

District 9 - Ferencváros
Ferencváros is undoubtedly one of Pest's most up and coming areas. Once a working-class neighbourhood, today it is home to a crowd of young student and professional crowd. This is due in part to a spill over from the increasingly crowded inner districts, and partly because there has been some serious residential development projects (Corvin Quarter). Think newly built apartment blocks with a huge mall, but there are still rundown parts of the neighbourhood you'll want to avoid.
Nearby, iconic Raday Street offers a long stretch of dining options, and since it's close to the Danube and Kalvin Square, it is a favourable resindetial option for those who prefer historic buildings and more interesting neighborhoods.
Besides the tourists, the district is full of students, artists and intellectuals. Ferencváros is home to one of the country's most prestigious universities, Corvin. Popular spots in the area include jazz café Jederman, drawing in the musicians. Trafó Performing Arts Theatre and the Budapest Music Center (BMC) are both nearby arts and cultural centres. They hosts regular exhibits, musical and theatre performances.

District 13 – Újlipótváros
A continuation of District 5's Lipótváros along the Danube, District 13's 'Újlipótváros' neighbourhood offers resident's quiet. You will find parts of Marget Island in the district, a 2.5 sq km island of green in the middle of the Daube. Marget Island hosts various outdoor activities. These include pools and baths to jogging tracks, water fountains and more. It is an ideal area for outdoor recreation.
Well connected by trams 2, 4 and 6, the area is home to lots of artists and families and dog lovers. There are plenty of parks, playgrounds and F&B outlets from which to choose. Újlipótváros offers a wide selection of property types to choose from. These include riverside and classic high-rise apartments.
Property search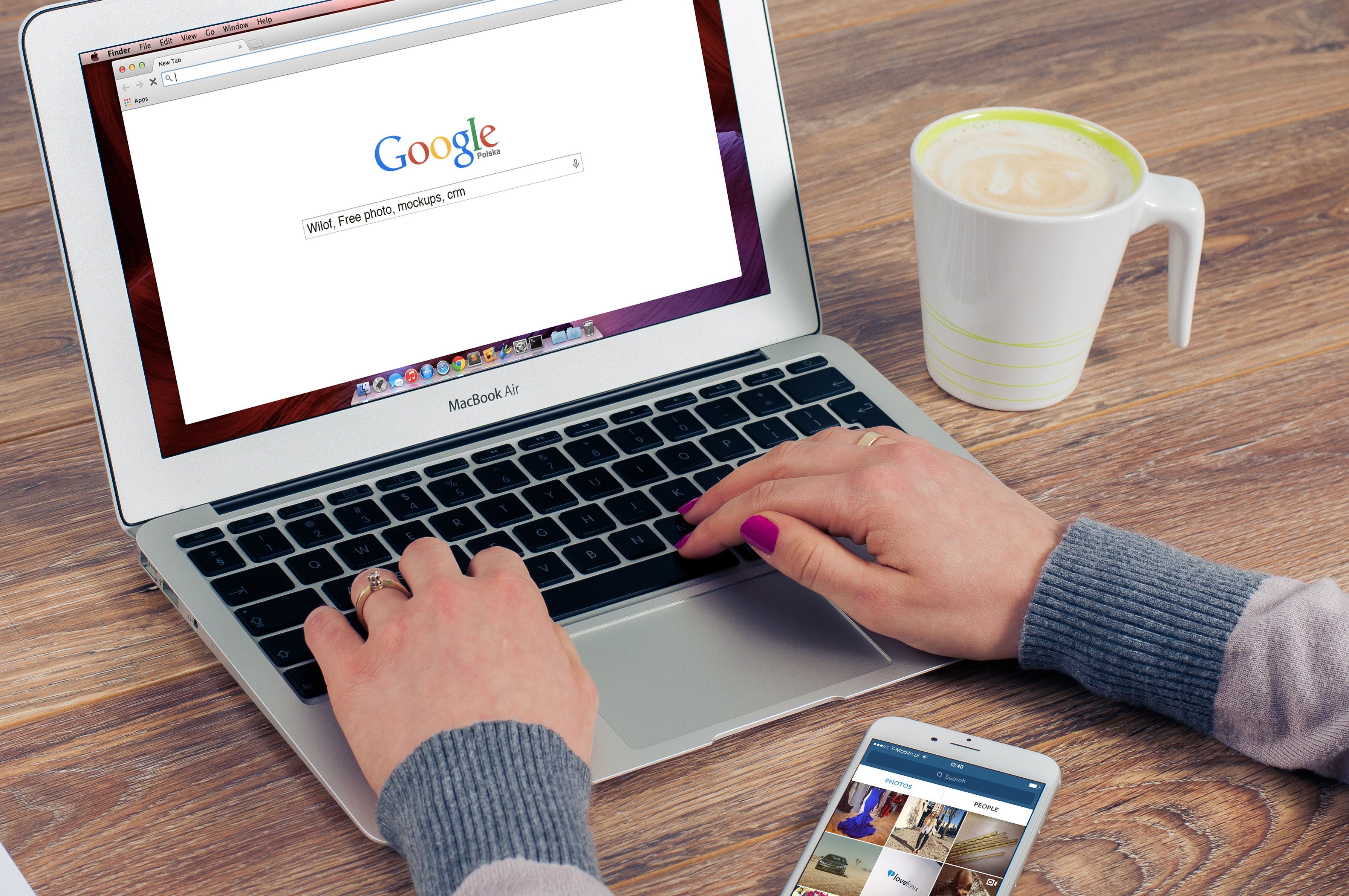 If you're a foreigner arriving to Budapest and are about to embark on a property search, make sure you are aware of the following:
Before you start your search, pick one or two districts or areas you're interested in, then define your budget – keep in mind that the prices you find on rental advertisements are only the rental fees, excluding the utilities and common costs.

Real Estate Agents can be quite helpful, and if you're afraid of the costs of using one, here's the good news: their fees are customarily covered by the landlords, so their services for you as a tenant are free!

Agents can be very knowledgeable about the neighbourhoods, property prices, realistic rental fees, they know which landlords permit pets or are more flexible than others, and most importantly, they know a lot about the properties, so don't be afraid to ask questions!

Never-ever, NEVER (not real estate agents, not property managers, not landlords, not their kind grandmothers) any money or make any bank transfers before a contract is written and signed! If you are being pressured to hand over cash or make transfers before signing a proper lease agreement, it's likely a scam or at least, intentions are not honest. For example, a favourite trick is to use time pressure, so the landlord might tell you he has someone already coming to give them cash as a deposit, but if you're faster, the flat can be yours… whatever they say, don't do it without a contract.
Lease agreements – what you need to know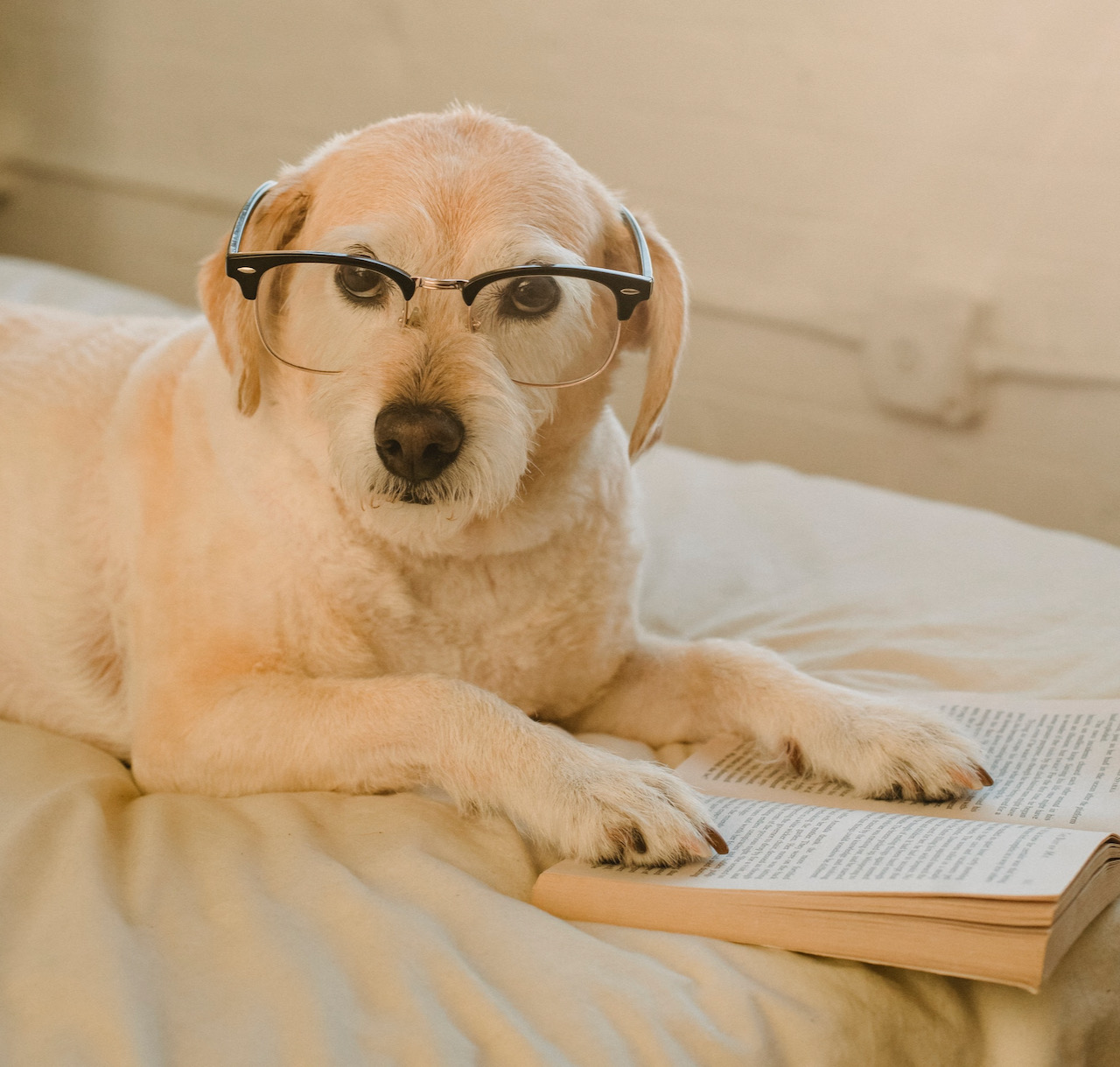 If you've managed to find a place you wish to call home, you'll need to bear in mind the following.
A two-month deposit and one month's payment in advance is usually asked from landlords when you rent a property in Budapest. The lease agreement must cover at the least the following details:
Personal details: Landlord's and tenant's name, date and place of birth, permanent address, mother's maiden name, National ID or passport number, bank account number.

Property details: the address, property lot number,
It's advised that you request proof of ownership from the landlord. If they are not the sole owner of the property, do they have authorizations from the other owner(s)?
Thereafter you should expect to sign a contract with the landlord. These are usually valid for 1 or two years as standard, but you and the landlord can agree on any period that suits you both. The agreement should detail both parties' responsibilities. This includes the landlord's liability for repairs, the agreed deposit and rent, the payment date and method. Also be sure to note other important agreements such as whether pets are allowed. Once all is accepted, all that's left to do is sign on the dotted line, and make sure you have two witnesses that also prove, with their personal data and signature, that the contract is a legally binding document.
Payments can be made in cash or via bank transfer, landlords mostly prefer the convenience of transfers, but there are still some who likes cash and will collect it every month. If your payments are in cash, request that the landlord sign an 'Acknowledgment of payment", a one-page (only a few lines really) document in which the landlord confirms they have received X amount as rent for Y property for Z period.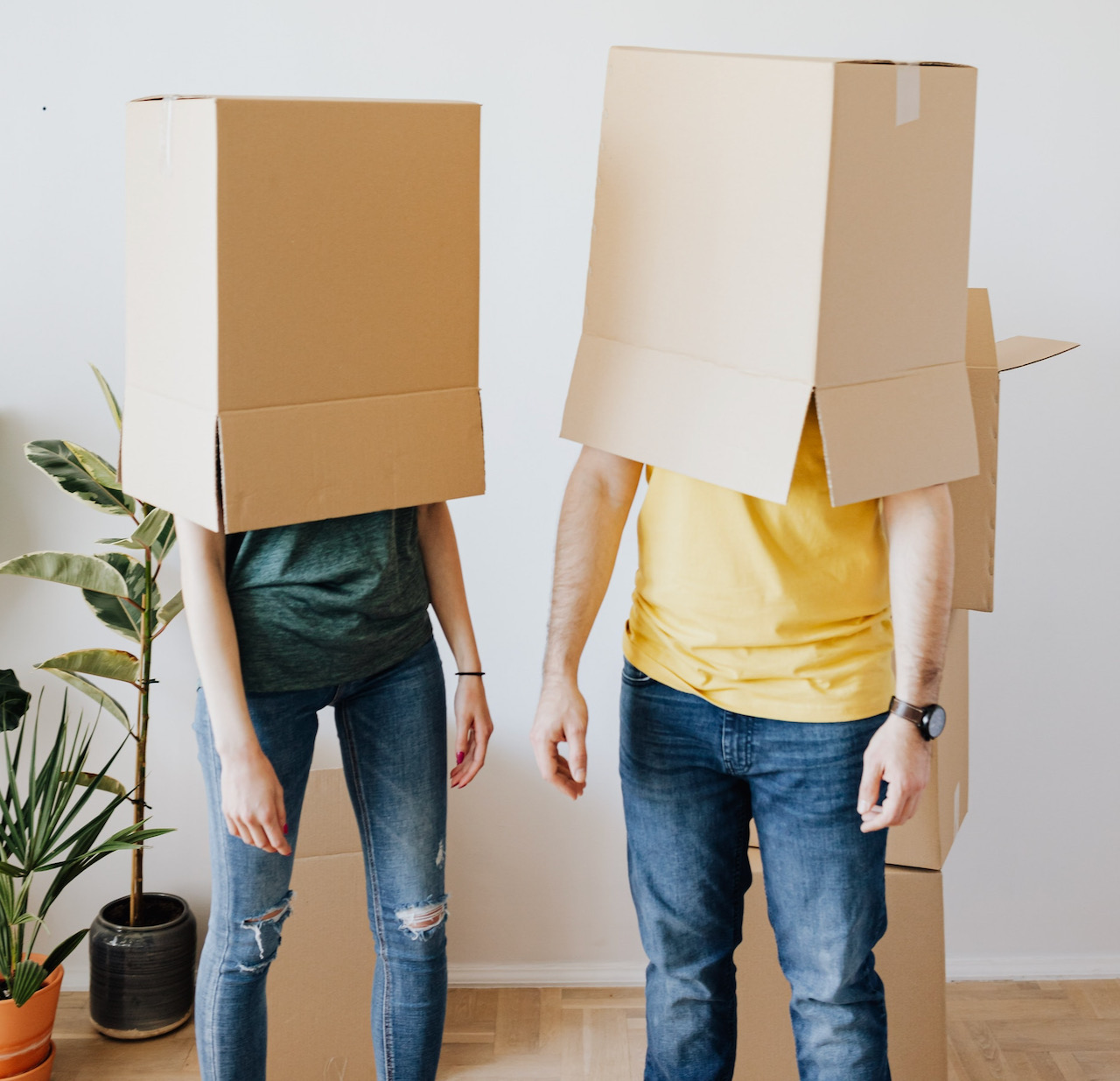 All that's left to do now is the handover of the property: an inventory checklist containing all furnitures, and moveable appliances should be completed and reviewed on the spot. Standings of the gas, electricity, and water meters should be noted on a handover document to make sure you're only paying the utilities that you actually used. All wear and tear in the apartment is noted during the process and before your occupation. This will ensure your deposit is not used in the case of pre-existing damage. It may also be helpful to take pictures of the property's condition before moving in.
Now all that's left is getting the keys and enjoying your new home!
If all this seems like a bit of a mine field, we're on hand to help you navigate the rental landscape. We can provide further information about any of the district's you have read about. Plus, we can tell you about the latest properties on the market. With regular expat clientele, our team members understand the unique challenges of searching for a property in an unfamiliar city. Get in touch with us anytime, and we'll help you with our expertise.