Discover Montenegro Now!
Covering around 13,800 square kilometres and nestled between spectacular mountains and piercing blue sea, Montenegro is one of the smallest countries in the word, but what it lacks in size it makes up for in its character. Located in Southeast Europe on the breathtaking Adriatic coast of the Balkans, Montenegro seduces with its raw beauty.
The charm and allure of Montenegro is one to  savour and embrace. It welcomes  you to enjoy the most beautiful encounter between rugged  mountainous landscapes and glistening seaside ports and beaches sprinkled along its mesmerising Adriatic coast in the south.
Accessibility
There are three international airports nearby, with Tivat (10km), only a 15-minute drive away, Montenegro's capital of Podgorica (90km) and Ćilipi, within earshot of Croatia's southern coastal town of Dubrovnik (46km). All three airports operate scheduled and charter flights with additional facilities for private aircraft. With direct flight connections across Europe, Luštica Bay is within a three-hour flight from most European cities.
MORE: https://www.lusticabay.com/en/explore-montenegro
https://www.lusticabay.com/en/explore-events-activities-things-to-do
LUSTICA BAY Properties
Marina village
Welcome to a life on the waterfront, with its sweeping views of the turquoise waters of the Adriatic Sea and a flourishing community – Marina Village. The entire waterfront is packed with attractions, from the amphitheatre and the five-star Chedi hotel to superb seaside dining and boutiques lining the promenade. The neighbourhood embodies a serenely sophisticated lifestyle.
Centrale
Centrale is set to become the urban fabric and the beating heart of Luštica Bay. With residential buildings already springing up, alongside a school, bank, a fire service and more in the works, it is just the right place for families and professionals looking for a perfect second or vacation home. It is complemented by entirely modern infrastructure and intelligent design that is connected to the natural environment
Golf residences
A golf residential village is another major neighbourhood of Luštica Bay which will offer exclusive golf residences with stunning views to the mountains and the bay while providing golfers with instant access to the course.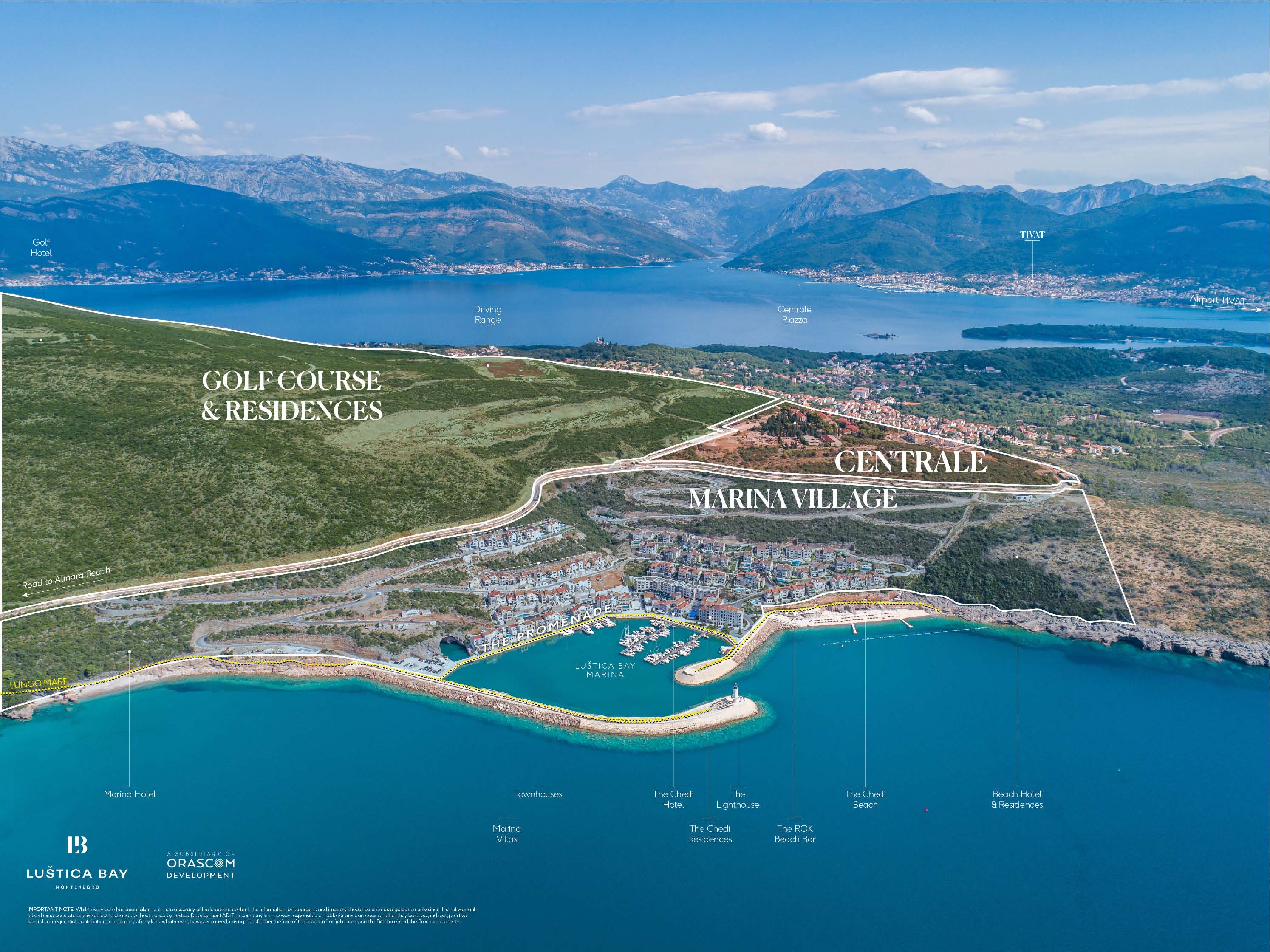 Homeowner Benefits
As a homeowner at Luštica Bay, you are buying so much more than a home. You are becoming part of Luštica Bay's exclusive lifestyle. To ensure you can make the most of every moment with us, our residential clients are provided with a plethora of unique homeowner benefits. Guarantee - Orascom Development Holding (ODH) is a Swiss-based holding company, which through its subsidiaries has been developing integrated destinations, including hotels, residential units and leisure services around the world for over 31 years.
Property Management
The experienced property management team at Luštica Bay is committed to providing you with the highest level of property management service available. As the homeowner, you can count on us to take out the hassle from property management and ensure your investment is in safe hands every day, all year round. Our dedicated team is on hand to assist you with services including maintenance, landscaping and security needs.