The Advent traditionally is started four Sundays before Christmas day, with most homes containing an Advent wreath on their tables which holds four candles, one of which is lit each Sunday from the start of Advent up until Christmas. Simplified, each candle represents faith, joy, hope and love. As children also anticipate the coming of Christmas Day it is typical for an advent calendar filled with chocolates for each day approaching for them to satiate their eagerness for the big day.
Christmas Eve is the more intimate day for Hungarians, as this would be the day with family and instead of the more Western tradition of Santa Claus coming on the Eve. Here, it is Baby Jesus who does the duty of delivering presents for everyone to open on Christmas Eve. Hungarians are more practical when it comes to the celebrations as on Christmas Day it is not just passed with family but going out and exchanging presents and celebrating with friends, and partying the evening along within the many bars and venues that Budapest has to offer.
Though the strict Hungarian tradition aside, Budapest, on the onset of Advent becomes a sparkling presentation of shops and eateries as well as a few ice skating rinks throughout all of the main squares within the center for everyone to enjoy.
These Christmas open markets are a wonderful refuge from being indoors for prolonged periods during the cold months. In these markets it is easy to warm yourself up with mulled-wine in many of the shops lined up outside. There is also apple cider and teas as well as hot chocolate for those who care for the more non-alcoholic option.
As these fairs have always been popular amongst locals, in the last few years the city has made an even bigger effort in presentation and ubiquity for most main center hubs to have an Advent fair. Wooden shops that beckon the imagination of what we imagine the North Pole elve's homes or workshops would look like, are filled with an abundance of handicrafts, foods and live music.
Here is a list of the Christmas Fairs that we feel are the best for you to spend this great holiday:
Vörösmarty tér Advent Market
Until January 6th
Perhaps the most popular and also the most beautiful, this square is right in the center of the shopping area and opens to Vaci street and Fashion Street (aka Deak ter street). Considered to be one of the best open Christmas Markets in Europe, this particular one has live festive and traditional music almost every evening, as well as the being the most diverse in terms of locally made products, whether they be edible or as possible presents.
Expect crowds as this can get very busy during the evening with friends talking while drinking mulled-wine or sitting on benches eating sausages or goulash with fresh baked breads.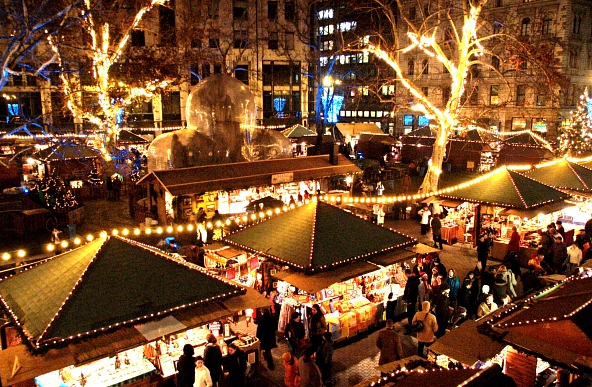 Deak Ferenc Street – Fashion Street Christmas Market
Until January 4th
Should you have enough mulled-wine and wish to go further, if you go towards Deak ter, from this square, you will come upon the Deak Ferenc street or Fashion street market which is filled with more mulled-wine, fresh chimney cakes fresh from the fire and also a small playing area for children. Though this is not as open as the Vorosmarty market, it is nestled between some of the best fashion shops that any other part of Europe has to offer.
Erzsebet Square- Market of Hungarian Flavors
Until December 23rd
A more relaxed and younger crowd as well as the gastro-fit enthusiasts, the Erzsebet Square holds this year the Market of Hungarian Flavors which is as the name suggests; focused on food and only food itself. For those who love the local flavors and the richness of paprika and peasant, traditional foods, this is the place to be if you wish to try anything that is local, fresh and handmade.
Options galore, many purchasable items to take for yourselves or to give as gifts are highly encouraged; local honeys, jams, cookies, cakes and more are all for sale to anyone who has a craving and interest in the delectable wonders that are the essence and staple of Hungarian food traditions.
St Stephen's Basilica Market and ice-skating ring
Until January 2nd
Just a stone's throw away from Erzsebet Square, you can walk off part of your wine and/or foods and take a stroll to Budapest's beautiful and picturesque Basilica, overlooking the market filled with Christmaslights and projected music as well as occasional 3D projections of holiday images against the Basilica. An ice-skating ring in the middle of the square is free to use for children.
Surrounding the huge Christmas tree set in the square, guests can stroll through the wooden stalls and continue down to the open food trucks that line along side each other between Sas utca and Szechenyi square.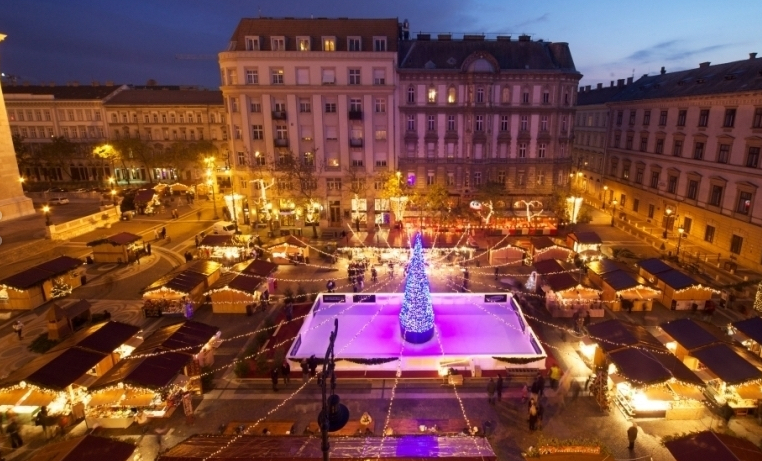 Four Seasons Hotel – Gresham Palace
Until December 27th
At the end of the Szecheny square, you will come upon the Four Seasons hotel. A feat in itself, this renovated former insurance building was brought back to life by the famous hotel corporation and it's Art Nouveau interiors rekindled. To go there any time of the year is worth just for the interior itself. However, this indoor market is of the more luxurious international and local labels and products.
Make sure to keep a lookout for the weekend events; pop music on Fridays, classical on Saturdays and children's choir on Sundays.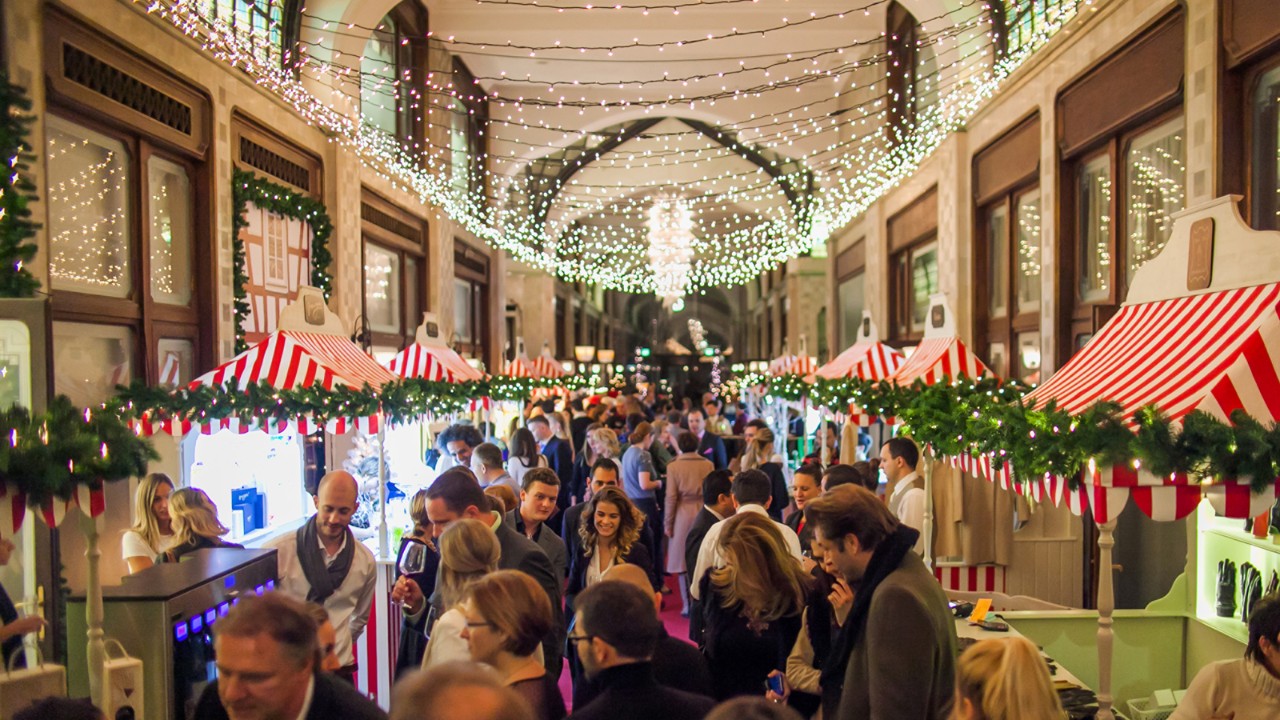 Gozsdu Udvar Christmas and Hanukkah Market
Until December 23rd
Located in the Jewish Quarter the Gozsdu udvar is an interconnected row of courtyards that cross between Kiraly and Dob streets. Filled with bars and restaurants, this is the only market that has gone "all out" in terms of fun-fares for all visitors. Displayed and ready to ride, are the carousel and a narrow gauge-railway. Nestled inbetween all of these courtyards is a huge Christmas tree where Santa Claus will come with his reindeers to give presents to children on the 6th of December. In addition to this and to fit tradition, there will be a proper Hanukkah celebration between the 6th and 14th of December, with Hanukkah foods, traditional music and handicrafts.